MUSIC LESSON PROGRAMS at A&D MUSIC
PIANO & KEYBOARD LESSONS
Tritone Music Academy - Tritone Music Academy is a Made In Canada popular piano & keyboard lessons course used at our academy in Abbotsford. The course has been endorsed and recognized by major universities and music colleges throughout the world that encourages the student to "think on their feet" while playing popular style music such as rock, jazz, country, latin, standards, etc.

Royal Conservatory Piano - This style of piano lessons is for the serious student who wants to excel in piano with the emphasis on the music of the composers from the classical period. Examinations are taken upon the completion of each grade.
Click here to read more about our Piano & Keyboard Lessons
GUITAR LESSONS
Various Programs - We have various guitar lessons programs at A&D Music. Students have a choice of disciplines such as basic guitar, classical, rock, and for the head-bangers….metal! Sign up early as our guitar lessons is usually one of the most popular education programs!
Click here to read more about our Guitar Lessons

DRUM LESSONS
Various Programs - There's more to drumming than sitting behind a set and thumping out a rhythm. At A&D Music in Abbotsford, our instructors will teach you the "art of drumming". Drums and percussion is the very heartbeat and soul of popular music.
Click here to read more about our Drum Lessons

VOICE PROGRAMS
Ever wanted to learn how to sing or to improve on what you already have the talent for? A&D Music is offering voice lessons. Voice lessons teaches you posture and breathing control to get the most out of your voice and ear training for proper pitch and intonation. Learn how to use your voice for expression and emotion in a song by using the right dynamics. Increasing your range will make you a more versatile singer. Sign up today.

VIOLIN & FIDDLE
This is a popular instrument today and the program is designed for the serious student who wants to learn while having fun with this amazing instrument. Learn the more classic violin style or the more contemporary fiddle style - it all depends on how you play your instrument!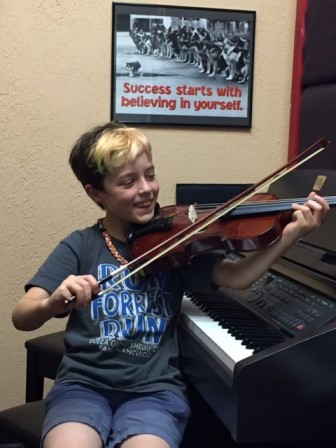 SAX, CLARINET, FLUTE, TRUMPET & TROMBONE
If you have ever wanted to play a band instrument, now is your chance! This is great for students who are in school band & need to improve their skills, or for anyone who always wanted to play but never had the chance.
UKULELE, BANJO & MANDOLIN
These instruments have made huge gains in popularity! Learn to play for yourself, your friends & family, or just sitting around the campfire for a sing-a-long.
BAND PROGRAMS
Rock Band: This is a program for music students who would like to learn how to play together with other students. You will learn how to co-operate as a band and become a single unit. This program is open to students already enrolled in any of popular music programs. Who knows where this will take you.

Ukulele Group: You can play this "popular again" instrument with a group and learn all styles of music! An easy way to have fun with music!

Musical Theatre: If you're a fan of Broadway and other musical theatre genre, this is for you! Focused on teens so far, we are hoping to soon offer this to other age groups. The group is setting up performance times ... will keep you posted!